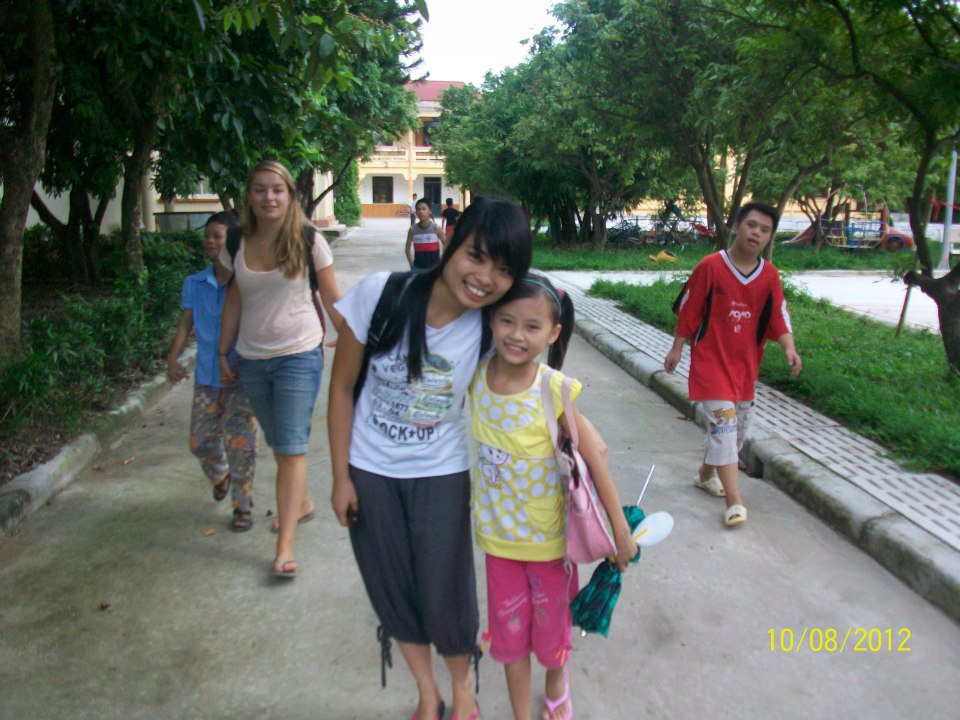 OVERVIEW
The Friendship Village is an international reconciliation project that cares for disabled children and adults who suffer from the legacy of the Vietnam war (Agent Orange Victim). It was initiated by a former US soldier, George Mizo, in 1998 together with his former enemies and other veterans who shared his desire for peace and reconciliation. In the following years many committed people from different countries joined, and today an international committee from Canada, Germany, France, Japan, USA and Vietnam work together to finance and organize the Friendship Village.
The Friendship Village offers therapeutic help for mentally and physically disabled children as well as their educational training and medical care. Adults who suffer from the consequences of war get help in the Friendship Village as well.

The vision of the Friendship Village has become a living community; today the Village has ten family houses, a health centre, a school, 5 special educational classes, a kitchen with a biogas system, organic fruit and vegetable gardens, animals and fish ponds. 50% fund comes from an international committee and 50% from Vietnam Government therefore people don't pay anything when living here.
The village takes care of 120 children (2nd and 3rd generation of agent orange victims, aging from 6 to 20 years old) , 40 military veteran, most of them come from other provinces from the centre up to the north of Vietnam.

There are 5 special education classes and 1 life skill/cooking class. Children learn literacy, music, craft, and math during the day. They have physical education once a week. The village has 4 vocational training classes include: sewing, embroidery, drawing, flower making, IT ).
The village has 60 staff, 10 of them are teachers (5 in disabled classes, 1 in skilled class and 4 in vocational training classes), 5 skilled physiotherapists to help 20 people(aging from 8 – 20).
VOLUNTEER'S ROLE
Your role is essentially as an extra pair of hands, and where children are involved, the more help available the better! At our care placements it is important that you show the initiative and enthusiasm to immerse yourself into the job and spend your time productively. As well as helping with the day-to-day running of the classroom you will also have the freedom to come up with games and activities to keep the children amused and occupied. We recommend that you come prepared with ideas and materials (puzzles, coloring books, basic language books, children's books, sports equipment, toys, etc). You could even teach some basic English and maths, if you feel this would be useful to the children. Art, music, drama and sport are always popular!
It's important that volunteers at the Friendship Village should be open and put in the effort to get to know the children, veterans, and staff. Spend your lunch break socializing and you'll have a much more rewarding experience.
Project Structure
Disabled kids study Vietnamese literacy, math, drawing, coloring in class hours. There are five classes divided by age in which children suffer from a variety of disabilities. They take vocational/ self-care training in turn. Beyond class hours, you can organize outdoor games in the playground. Volunteers can organise group games in the class or take children out in warm weather to play some sport activities. Some Teachers here speak some English.
Here are some possible activities suggested by previous volunteers:
In class 1,2 and 3:
1. Education:
+ Assist teachers in instructing children on writing (holding their hands to write letters) and Math (addition and subtraction)
+ Teach children to draw simple things like house, trees, etc.
+ Games with numbers (like Bingo)
+ Lessons on emotional skills
2. Physical Coordination:
+ Making bracelets with strings and beads
+ Play with balls
+ Do some simple dance (like Chicken Dance)
In Class 4+5:
1. Education:
+ Assist teachers in teaching children Math
+ Teach some English
+ Lessons on soft skills
2. Speech Therapy (some deaf kids can still make sound)
3. Games:
+ Join the kids in making LEGO, doing puzzles, playing chess
+ Make arts and crafts (like puppets with recycled water bottles or wool)
Vocational class:
1. Morning:
+ 8-8:45 a.m.: Physical Education (indoors). Need volunteers to pay attention to each kid and tell him/ her to follow the teacher's instructions
+ 9-10:30 a.m.: Cooking class. Volunteers can help the teacher keep control of the class or teach the class a new dish from their home countries.
2. Afternoon: Self-care lessons. Need volunteers to give one-on-one instructions.
+ Brush teeth
+ Wash hair
+ Wash hands and feet
GENERAL INFORMATION
Leisure activities: Hanoi has many historical and cultural landmarks and is a popular destination for tourists. Visiting the Old Quarter or traditional trade villages are good choices for volunteers at weekends or during free-time. Many cultural festivals are held in Hanoi annually so this is a great chance for volunteers to explore the Capital which is over 1000 years old. Moreover, you can spend your weekend trips visiting tourist destinations and beautiful landscapes in Vietnam such as Ha Long Bay (one of the world's natural wonders), Sapa (moutaineous area in the Notherwest), Hoi An (an ancient town in the middle of Vietnam), Nha Trang, etc…
TRAVEL & TOURS: Attractions you can visit while on this program
Accommodation/Meals: Volunteers will be accommodated on site in a very basic private room. The room does have air conditioning, WIFI, and an ensuite. Three meals a day are available to the volunteer in the eating hall and the total cost for accommodation and meals is slightly under US$10 per day.
Support from VVCD:
Visa, Airport Pick up, Orientation Program

Placement in a quality project, allowing you to maximize your time and efforts for a good cause

Guidance and support of the local Coordinator (24/7 in case of emergency)

Site visits, ongoing support during the term of the assignment
---
Related projects:
Thuy An Center Bode Pagoda Hanoi Friendship Village