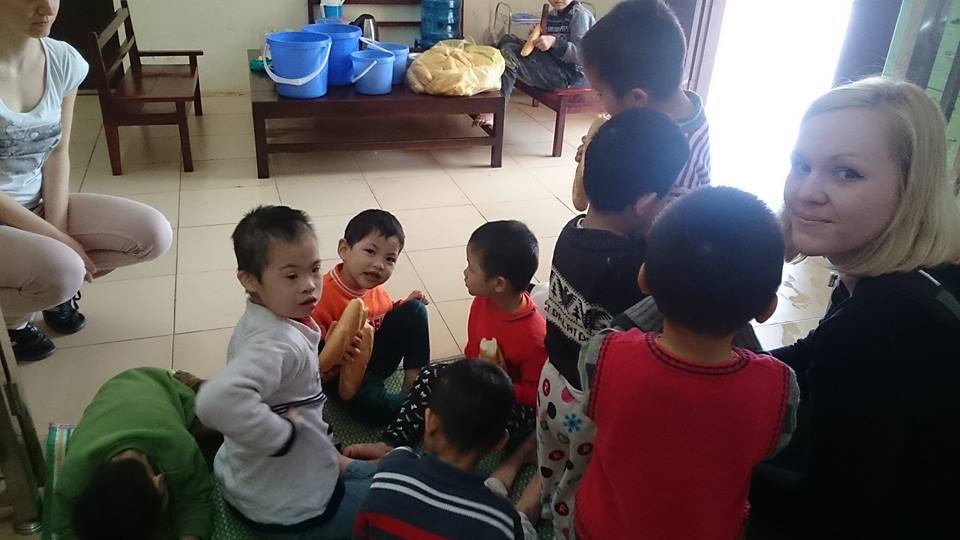 OVERVIEW
Thuy An Care Centre for Elderly and Disabled Children is located in the picturesque Ba Vi province approximately 70km from Hanoi. The center not only caters for children but also for the homeless of Hanoi and those that are experiencing real difficulties in their lives. The centre also caters for some elderly residents who have no family or home to go to. Such a variety of people will give the volunteer a real insight into what life can be like for some in Vietnam.
There are approximately 320 people at the centre and a few of the children attend the local school.
The children have severe physical and intellectual disabilities but greet each day with a smile, something that you will carry with you when you leave and understand no matter our minor irritants, life is good for us, the center continually grounds you and gives you a far greater awareness, just open your mind a little.
There is also a nursery for babies without disabilities. Volunteers can engage in a number of activities here including rehabilitation, if skilled enough, teaching a little English, art therapy, helping with caring, and many physical activities if you would like to engage in them, such as gardening, painting, repairing, there is a major staff shortage here.
VOLUNTEER'S ROLE
Activities for the volunteers will be determined by the volunteers skill set and physical ability. VVCD and the director of the center will sit with the volunteer on the first day and arrange a time schedule if required. We would like to call the center an open book and somewhere within the pages you will find an area that you are comfortable with and basically decide your own workplace. We do not ask volunteers to do anything they are uncomfortable with, but there is a place for all.
Volunteers can also help with physical work which varies from renovation to gardening. At the same time, volunteers can work in the rehabilitation room where handicapped children come to do exercises and have physical therapy, or take care of children who stay in the rooms, or take them out to play and enjoy fresh air if the weather is nice. There is a large playground in front of each house.
GENERAL INFORMATION
Leisure activities: You would just immerse yourself in this lovely rural setting and enjoy all of the wonders that it has to give. Ba Vi is a true delight with its mountain range complemented by the flat lands for the farming of rice and various other fruits and vegetables. Their rich fertile land provides the landscape with much flora and fauna and is a wonderland that the nature lover can get truly immersed in. The centre is only 10kls from Son Tay, a medium size town with all modern amenities and a deep cultural history. Otherwise, if volunteers wish to travel to Hanoi for a weekend, or maybe visit Sapa or Halong Bay then a bus trip to town is easily arranged. Hanoi is close by and only around a 90 minute public bus ride to the middle of the city.
TRAVEL & TOURS: Attractions you can visit while on this program
Accommodation: Volunteers will find accommodation in a guesthouse approximately 5 kilometers from the centre, cost is around $7 per night. Basic Vietnamese evening meals can be found in the village and at the guesthouse and although the area is quite isloated it but does have most conveniences including a coffee shop and wifi. Volunteers travel to the centre each day on pushbikes provided by VVCD with most remarking how great it is to start and finsh the day riding through rural Vietnam.
Meals: The VVCD coordinator will show the volunteer all of the types of eateries in the area and explain the meals that would best suit the volunteers requirements. The coordinator will show the location of each place and also cater for volunteers with special dietary needs. Three basic meals would only cost around $5 per day.
Support from VVCD:
Visa, Airport Pick up, Orientation Program

Placement in a quality project, allowing you to maximize your time and efforts for a good cause

Guidance and support of the local Coordinator (24/7 in case of emergency)

Site visits, ongoing support during the term of the assignment
---